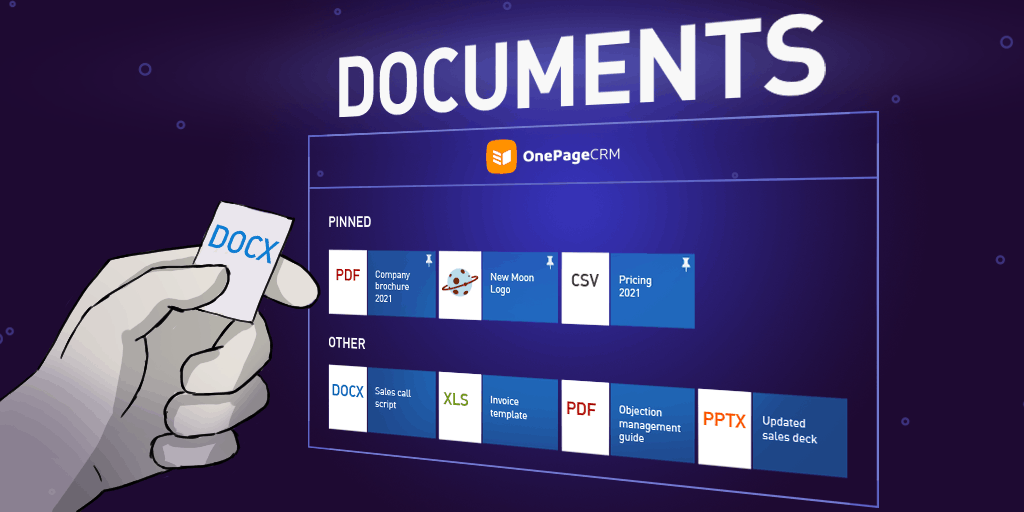 Documents: Accelerate Sales by Keeping Essential Company Files on One Page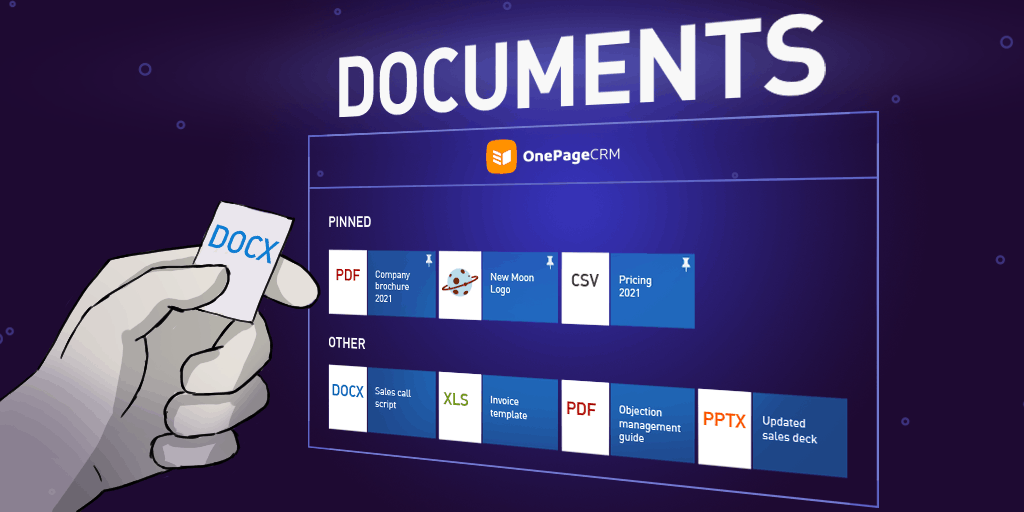 Do you know that dreadful cacophony that precedes every orchestra concert? Each musician is tuning their instrument and is focused on their own performance. And it's not until the conductor comes in that all that noise transforms into a beautiful harmony.
Trying to align your sales team and the involved processes often feels the same. Each salesperson operates in their own way, has their own process in place and, in general, prefers to stay in their personal sales bubble. Unfortunately, that often means disregarding company policies, brand guidelines or simply doing double work that could have been avoided. For example, spending time on preparing an industry-specific case study that has already been done by their colleague in marketing a month ago.
To increase productivity, align sales processes, and ensure your sales team operates in the most efficient way possible we created the Documents page. 
Now, your whole team can instantly access the most important company files like best practices, brand assets and guidelines, recent memos, updated pricing sheets, templates, latest brochures, and anything else that can help reach that document management harmony, from one page, in just a click.
Align your team(s)
Trying to keep all the sales reps on the same page can be difficult enough. Add to it the need for collaboration with, say, the marketing team, and the task becomes a whole lot more complex. However, the numbers show that it's worth the trouble. Those businesses that have aligned their marketing and sales were found to be 67% better at closing deals!
Making sure that the most recent and relevant marketing assets are available to the sales team at any time is a good place to start your alignment journey.
Has your marketing team just published a case study or sourced valuable testimonials that could support the upcoming presentation? Simply ensure those files are added to Documents! This way, your sales reps will be able to access them in just a click.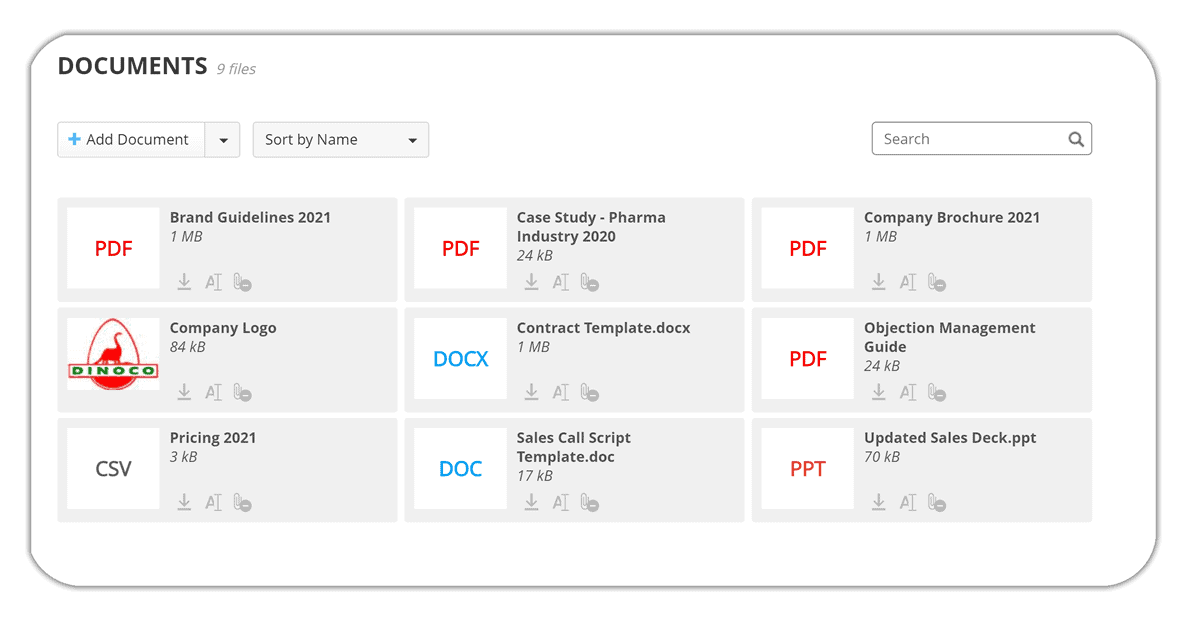 Save time and increase productivity
83% of employees recreate already existing documents simply because they can't find them in the company's system. That's a LOT of time wasted on poor document management. Not to mention frustration.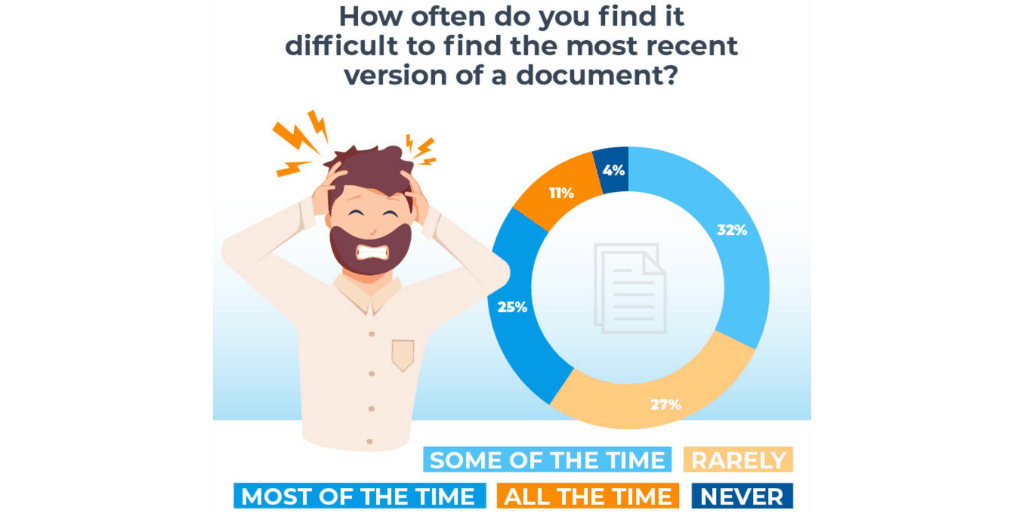 At OnePageCRM, we believe in efficiency and making sure that the salespeople's time is spent on closing rather than admin. By uploading the most recent, important, and frequently used files to the Documents area, you can be sure to help your team save time and nerves and stay focused on their targets.
Stay on-brand
There's nothing that looks more unprofessional than a sales rep sending a prospect an outdated brochure or not being aware of the recent logo change.
With the Documents page, you can ensure your salespeople have access to the most recent brand assets. So that their communication always remains on-brand.

Pin files that matter most
Some documents might be used more often by all members of the team and, therefore, require some extra spotlight. For example, the most recent pricing or company brochure. Just like pinning files to contacts, you can choose which files to pin to the top of your Documents page. And do so in a click!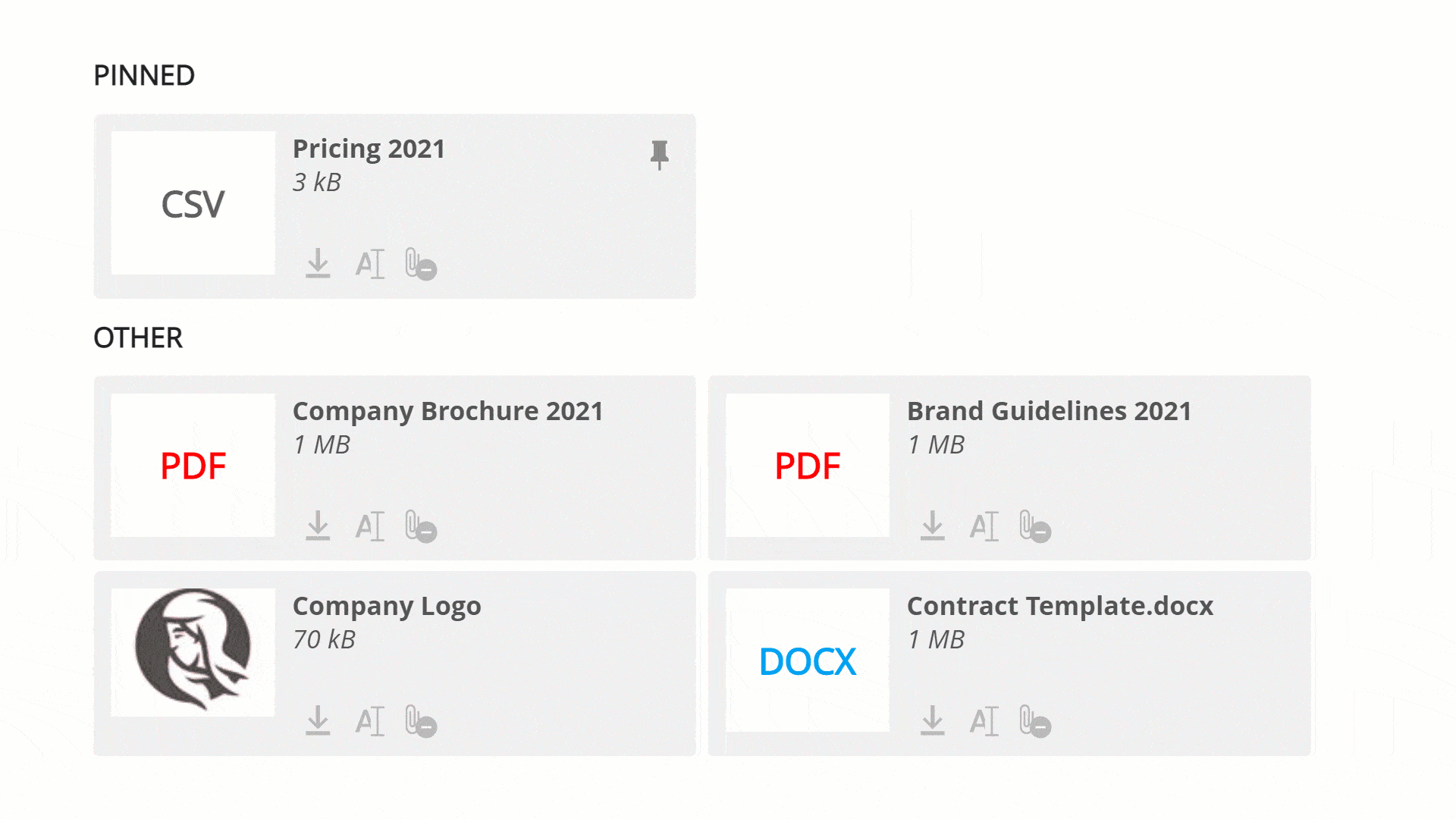 Device or cloud: upload in a click
To locate the Documents page, simply go to the profile section at the top right corner of the app and select Documents.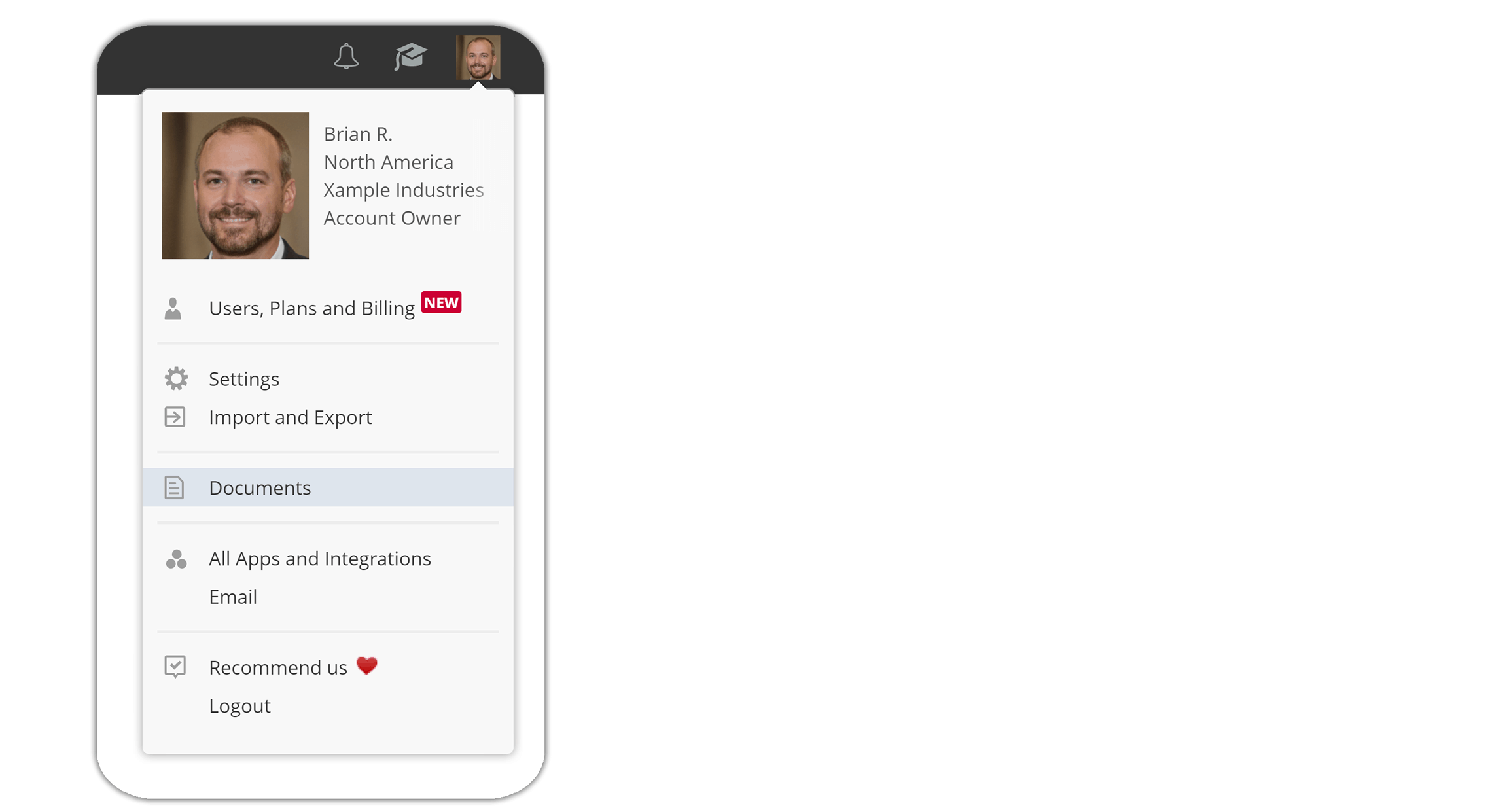 Once you've decided that a file deserves to be added to the Documents, you can easily upload it from your computer, Google Drive, or Dropbox. Whatever works best for you.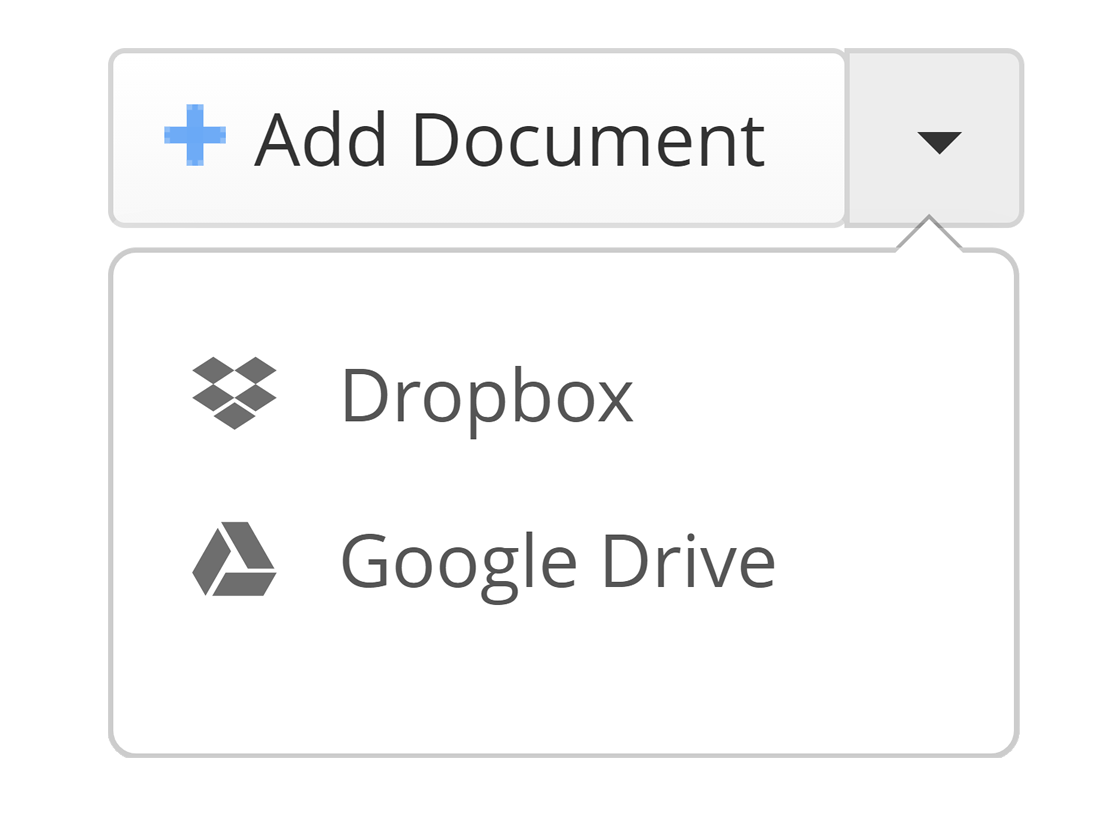 Have you tried our new Documents page already? What do you think? Let us know in the comments below or tweet us @OnePageCRM!