A closer look at your Action Stream
A dynamic list of contacts with their next action, sorted by date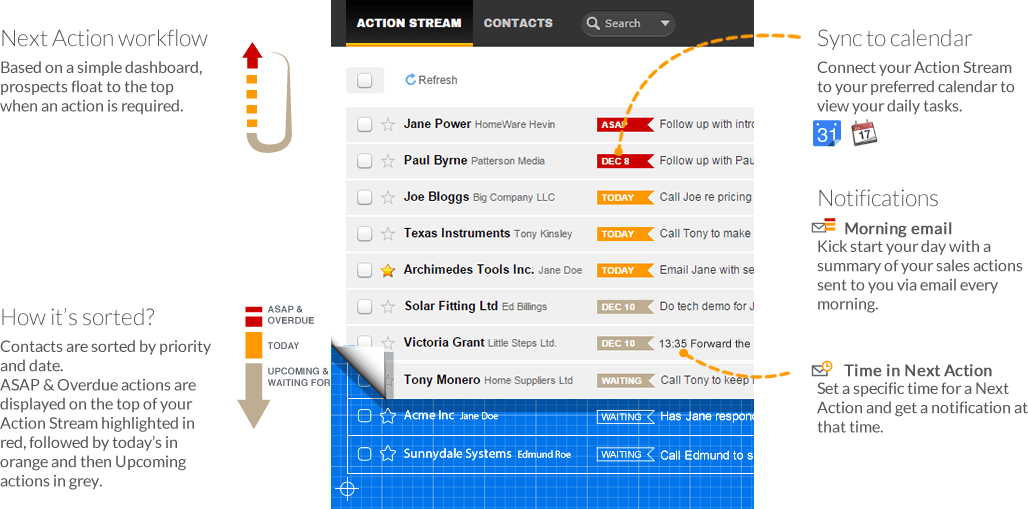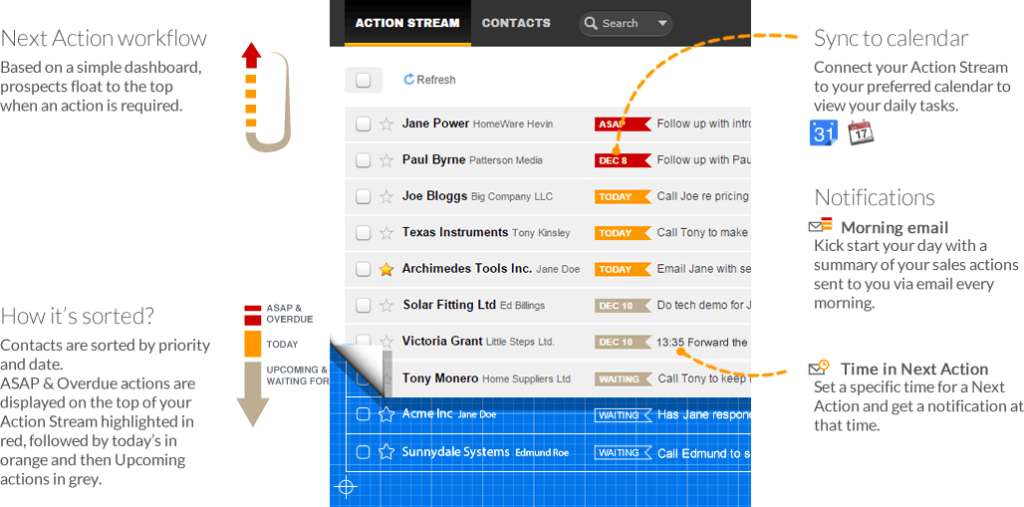 Setting Next Actions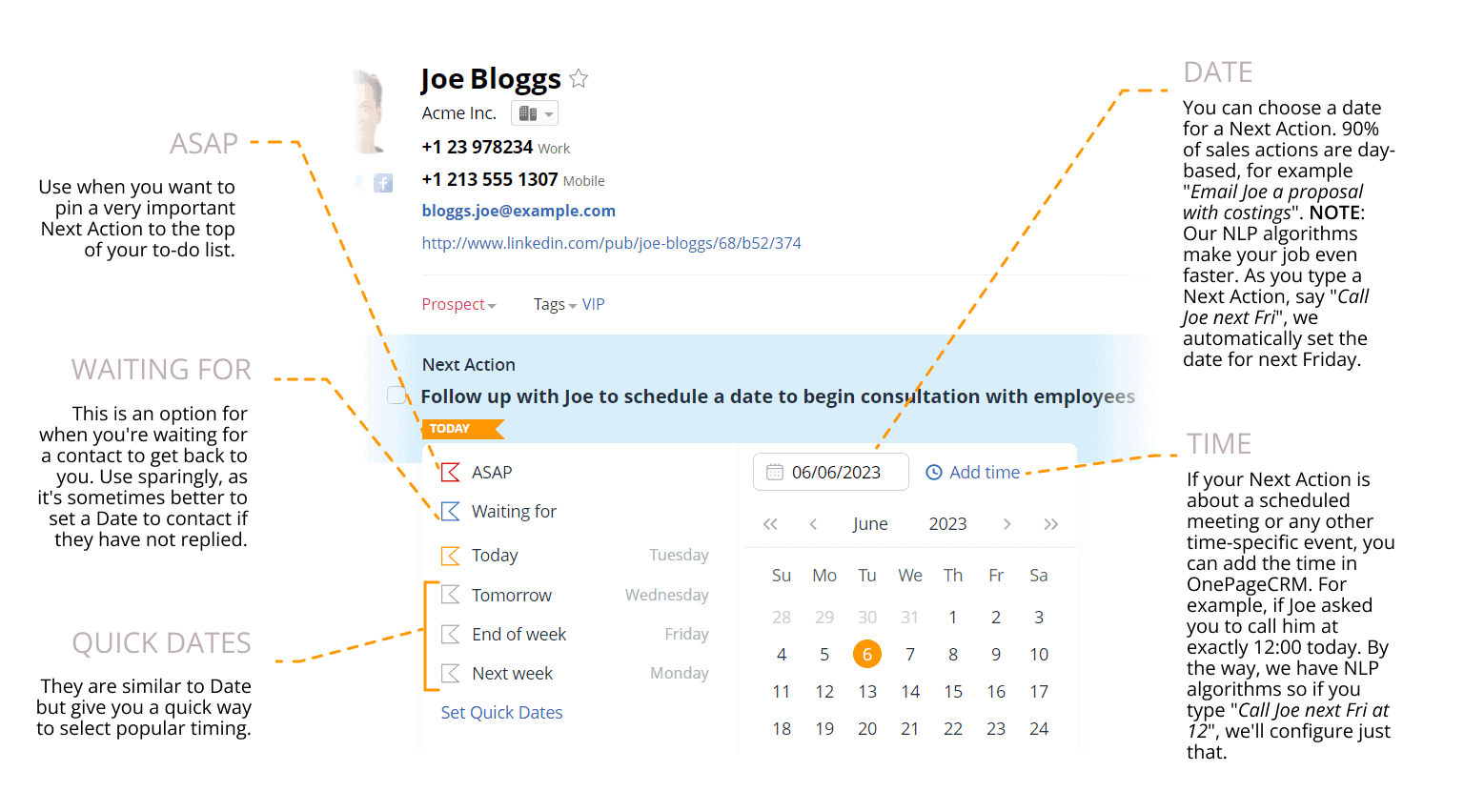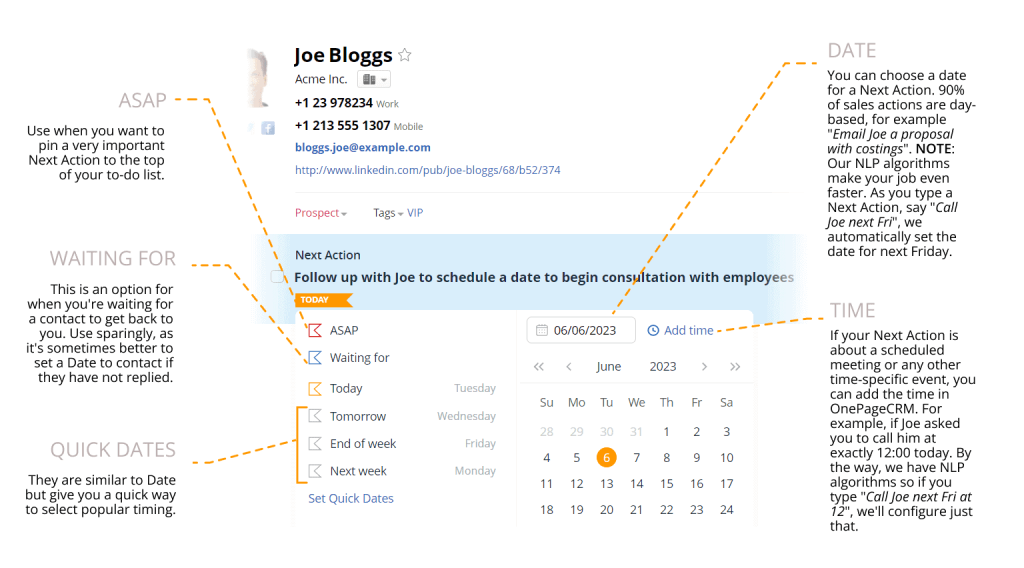 Using natural language commands for Next Actions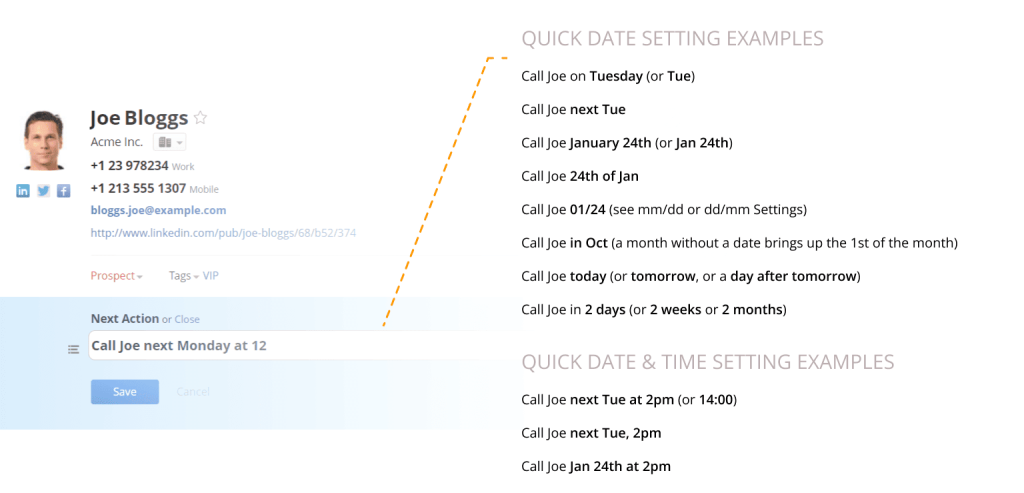 Automate your sales process with Saved Actions

Questions about your data
Importing your contacts
Based on a simple dashboard OnePageCRM allows you to easily import contacts using a .CSV file or directly from Google Contacts:
CSV File: Save your data as a .CSV file and upload in one click.
Google Contacts: Pull contacts directly from your Google Account​.
Custom Fields: Data like Birthday, Gender, Tax Number, etc requires a Custom Field.
Learn more about importing your data: Importing Data.
Can I export data any time I want?
Yes! OnePageCRM lets you easily export your data so you can have additional back up or create advanced excel reports within minutes:
Exporting Data: All contacts, deals, actions and/or a selection of your data within OnePageCRM can be exported with ease.
File Types: Quickly export into a .CSV file type to open with a range of desktop and cloud applications.
Learn more about exporting data: Exporting Data.
Where do you store my data, is it safe?
Yes! Your data is very secure with OnePageCRM!
Location: Stored in Amazon's East Coast Data Centre protected by physical barriers and 24/7 guard to prevent unauthorized access.
Encryption: Comodo issued security (SSL) which is encrypted to a level similar to Internet banking.
Back-Up: Incremental backups of your data are scheduled nightly and full backups run weekly, with 99.9% uptime.
If you ever need help…
We are dedicated to making sure that you experience the best in customer service. Everybody has different experiences using a CRM system, so if you need us we are here:
Webinars: www.onepagecrm.com/webinars/
Email: support@onepagecrm.com
Online chat: www.onepagecrm.com
Phone: +1 (646) 762 1303
Some advanced features
Capture lead details from web pages
Capture leads from Twitter, Facebook, Gmail, Inbox by Gmail, Outlook.com (including Outlook 365 and Hotmail), and Xing in just one click. Learn more.
Use reports to get a bigger picture
Your sales pipeline is ideal for forecasting and looking forward and your activity reports allow you to see a history of what's already taken place.
Automate repetitive tasks
Automate your sales process with pre-saved task sequences, enable Autoflow to trigger specific actions in your CRM, send sales quotes in a few seconds, and much more. Learn more.
Store emails with contacts
Keep email conversations under your contacts activity timeline. Sync only client-related communication in your CRM and make sure that any team member can pick up the conversation from where you left it. Learn more.
Level up with OnePageCRM
Watch our 20-minute demo to see what advanced CRM features we have and how you can use them to make the most out of this system. Learn more.
Integrations and sales ecosystem
Managing your contacts across the sales pipeline is important to make sure they convert to paying customers. OnePageCRM has built a sales ecosystem connecting us with some of the best cloud-based apps covering lead generation, lead nurturing, accounting, and invoicing. Learn more.
OnePageCRM on mobile devices
Working away from the office? Whether you use iOS or Android devices – phones or tablets, OnePageCRM is perfect for use on the go:
iOS: If you have an iPad or an iPhone you can download our iOS app from the App Store.
Android: Also, if you are using an Android device whether mobile phone or tablet we have an Android App available for download from Google Play.