Recently, we announced some major updates to OnePageCRM. At the centre of these was our new account view which streamlines how you manage multiple contacts within the same company.
Initially these did not apply to legacy users of our 2-column layout, but now all of these great features are across both layouts.
In short, the features allow you to handle company and contact information separately within OnePageCRM. This helps to make managing contacts and their companies much easier:
Company-wide fields and custom fields: Company-wide custom fields appear beside the contacts custom fields under the 'More' button. These can be configured in Settings and go beyond individual contacts. Examples include the company's industry or number of employees.
Company preview: Selecting the new company preview icon beside the contact's details gives you quick access to company-related information in a popup, and a list of all contacts working for the same company
Do more with contacts: Clone, Link, Split and Edit contacts from the preview in one click.
More powerful edit contact: When you choose to Add/Edit your contact, scrolling down to the bottom enables you to enter company information also.
Contact / company activity: For companies with multiple contacts, quickly switch between Activity timeline for the contact or the company as a whole.
Deals: A total of all Pending / Won Deals for the company.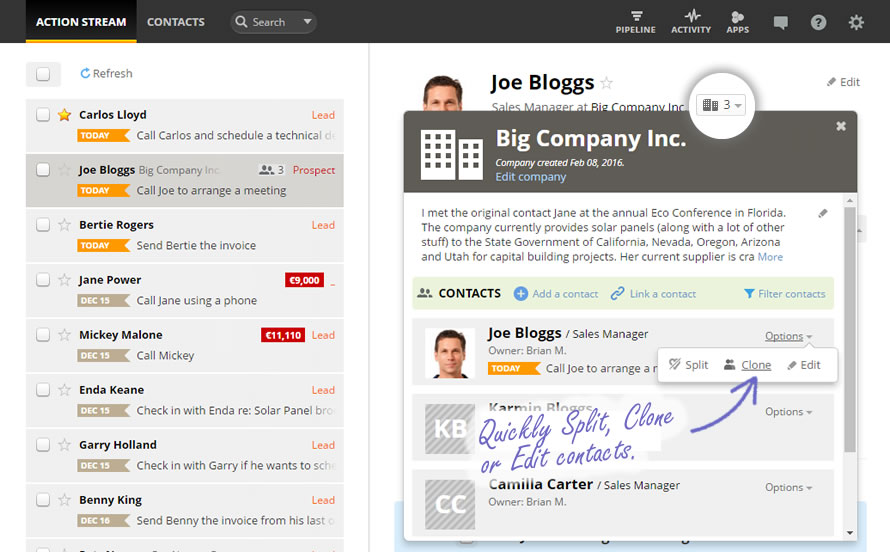 But that's not all that's going live today.
One of the most requested features in OnePageCRM is that we should allow dates to be added to queued actions. Well now you have them.
Queued actions with dates:
We've just released a new queued actions with dates feature which makes handling of multiple actions with the same contact much better. Check out our blog post here for more information.
If you have any thoughts or feedback on these updates, please let me know. Contact me at support@onepagecrm.com.
[sc name="OnePageCRM trial Action Stream"]