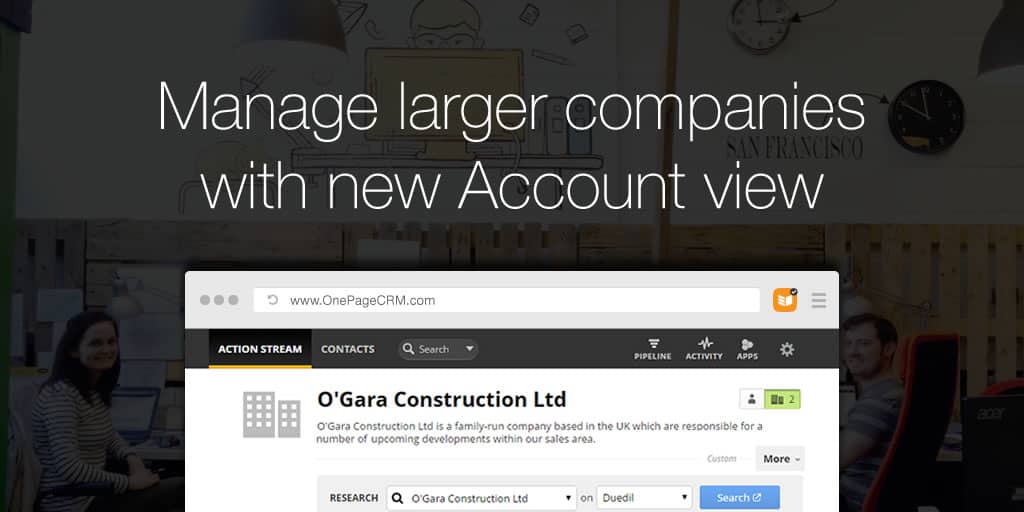 How to use CRM for effective account management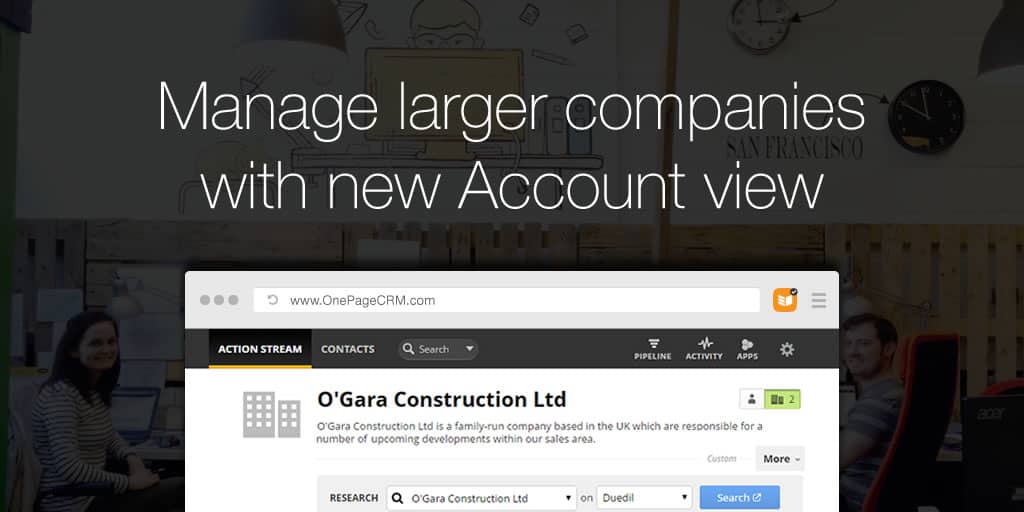 Today marks a milestone in the OnePageCRM development roadmap. After months of careful consideration, coding, and bug-fixing we launch our new and improved UX and Account View.
Account Management with OnePageCRM
With the new Account View, you can focus on the company first, with a separate description and company-wide custom fields. In typical OnePageCRM fashion, we've further simplified the sale process by bringing your prospecting tools into the CRM. Conduct further research on companies by searching via Duedil, LinkedIn, Hoover, Google, and Facebook.
Finally, with the addition of our 'Linked Contacts' you can now link external contacts to a company in the CRM; ideal when you have multiple parties involved in the decision-making process for a deal.
Take a look below at the new Account View in action:
CRM features for account management:
New Research menu: Perform deep research on key contacts using Hoover, DueDil, LinkedIn, Facebook, or Twitter.
Company description field: Specific information on the company, not just the individual contacts.
Company-wide custom fields: Now custom fields can be applied to companies.
Linking contacts: Link contacts to the account view that are related to the sale but not part of the prospect company.
Contact / Company switcher: Switch quickly between the Account view and your individual contacts within the company.
Enhanced A-Z Contact list: See all contacts within a company at a glance.
Bulk updates: Apply bulk updates to companies, not just contacts.
Status Sync: The Status of contacts within an account is not in sync by default, you can enable this feature if you wish.
Add new accounts to your CRM
When creating a new record in your CRM, you'll see two options: there are separate tabs for "Contact info" and "Organization info".
It allows you to create an organization initially, even when you don't have any of the contact's personal details. This happens in many cases as you set out to sell to a particular organization without knowing who to make a connection with.
This makes lead generation and management much simpler when there are multiple contacts in an organization. This is particularly useful when you only discover new leads or decision-makers during the sales process.