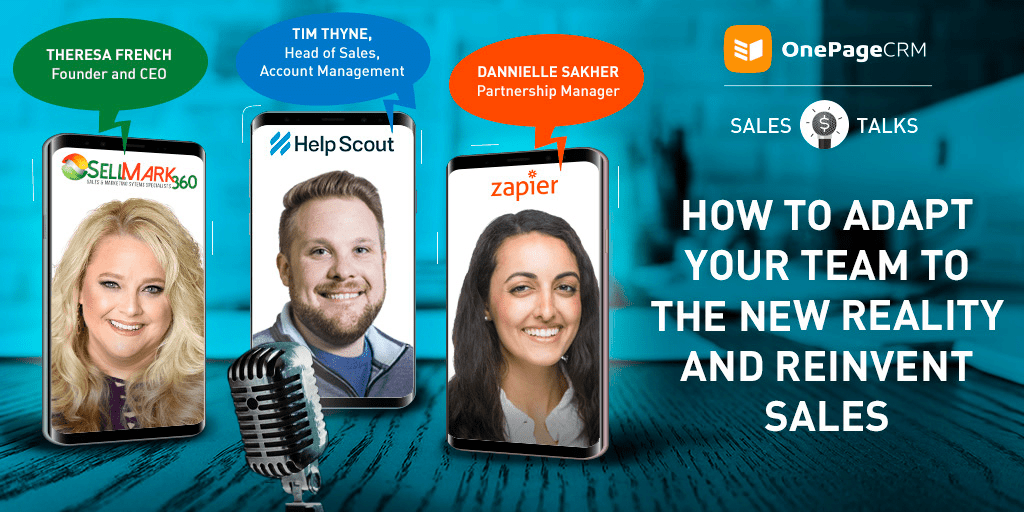 OnePageCRM Sales Talks: How to Adapt Your Team to the New Reality and Reinvent Sales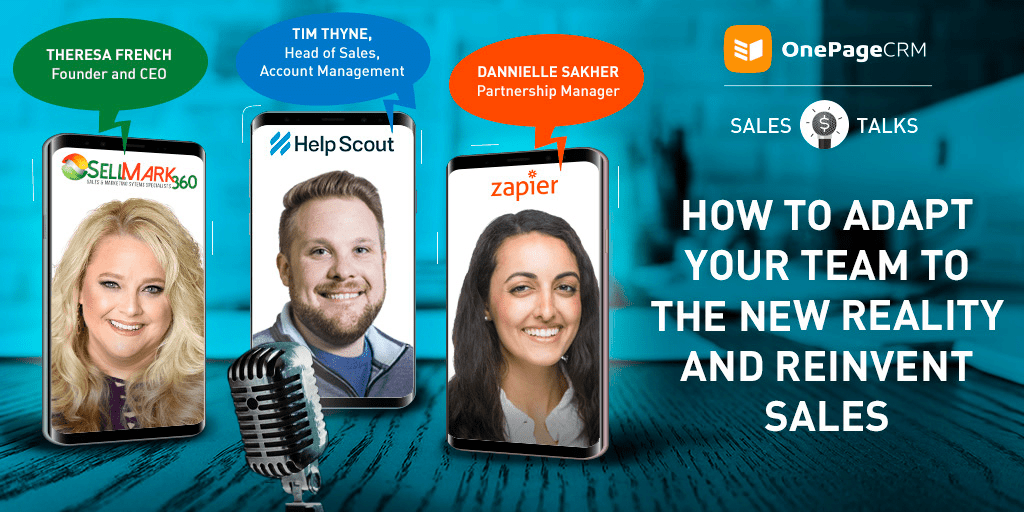 "The entrepreneur always searches for change, responds to it, and exploits it as an opportunity."

Peter Drucker
The new reality is here. There's not much we can do about it. What we can do is decide how we respond to the change. We can try to deny it, fight it, but at the end of the day, our business success will be determined by whether or not we can adapt to it.
Furthermore, now is the perfect time to seek and realize new opportunities. It's time to focus on nurturing a strong team that's adjusting to going remote. To reinvent your approach to sales and support your customers. And to find new ways to reach your prospects and re-evaluate your targets.
We want to help you in the transition, so we've invited three of the top professionals to share their insights, experience, and strategies for these times. And the best part? They'll give practical tips on how to implement them in your business!
On Thursday, May 28th, OnePageCRM was joined for a Sales Talk on How to Adapt your Team to the New Reality and Reinvent Sales.
Missed it? Then check out the recording here.
Our guests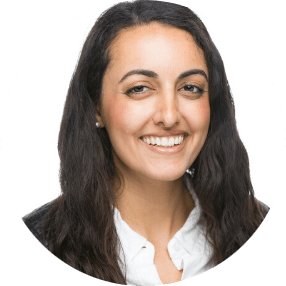 Dannielle Sakher,
Partnership Manager at Zapier
Zapier is an automation tool that helps its users connect to over 2,000 apps, including OnePageCRM, Help Scout, and many more. As it has been a remote-first company from day one, Dannielle is in a unique position to share her practical insights into how newly remote workers are feeling today. She will give some insider tips on how to get things done in a remote environment, as well as keep a strong company culture.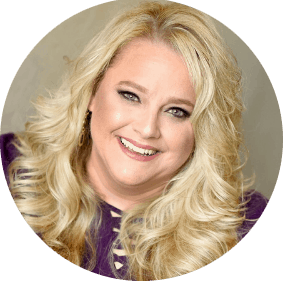 Theresa French,
Founder and CEO of SellMark360
SellMark360 is a sales consultancy firm specializing in helping owners of small to medium-sized businesses simplify and systematize their sales processes. Theresa will provide a guide on adapting your message in the time of crisis. She will also share tips on accurately targeting and truly understanding your prospects, as well as building your ICP (Ideal Client Profile).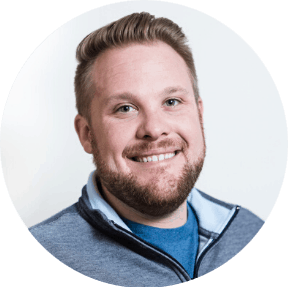 Tim Thyne,
Head of Sales and Account Management at Help Scout.
Help Scout is a popular Customer Service Software, as well as a global remote company. Tim will speak to us about their company's journey from having a self-service go-to-market strategy to a hybrid approach that not only improved their customer experience, but accelerated revenue as well. You can read more about the Sales as a Service philosophy they've implemented here.
When: May 28th 2020 at 12 p.m. EDT (New York) / 5 p.m. GMT+1 (London)
Duration: 60 minutes
ROI: Invaluable