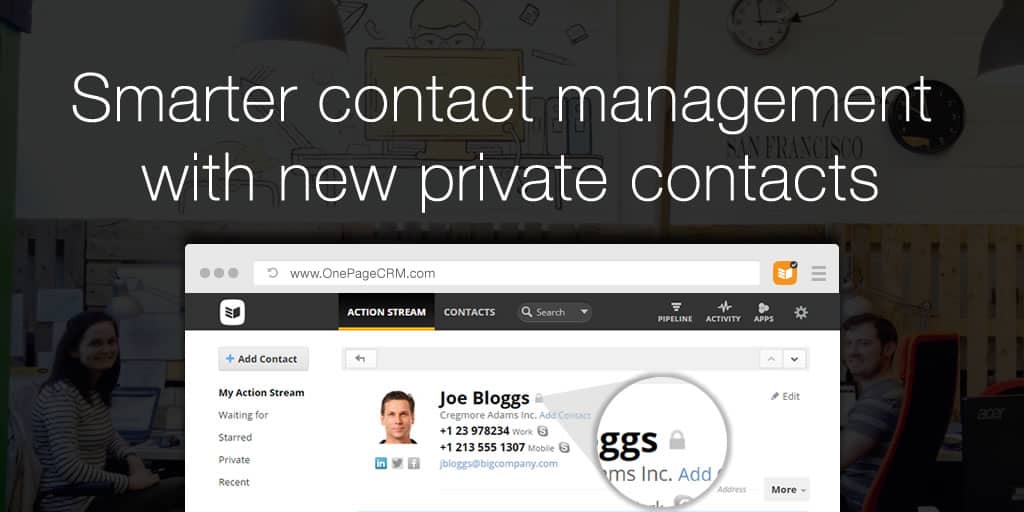 Smarter contact management with new Private contacts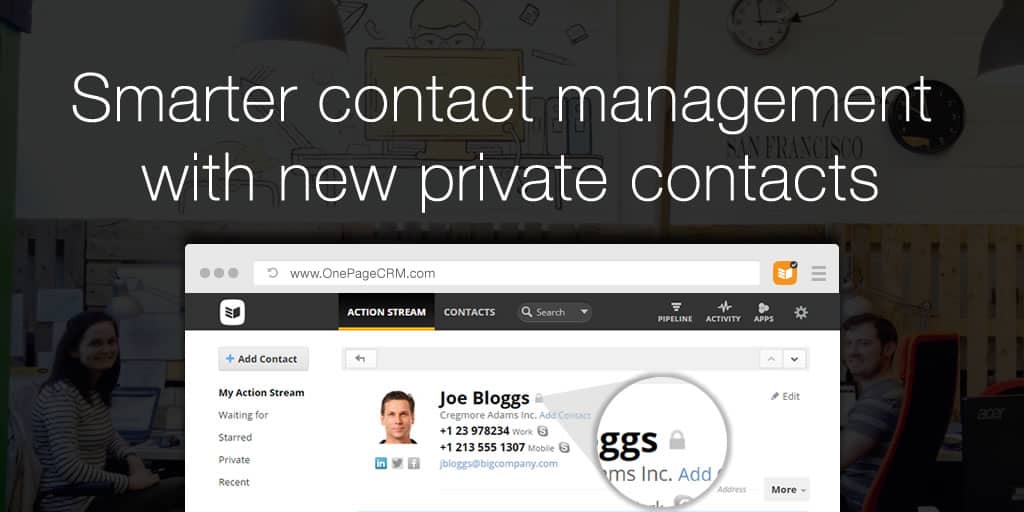 Managing your contacts with OnePageCRM keeps you and your team in the loop with all of your business's sales activities. While we operate as a shared database, we understand that some users need to keep certain contacts hidden from the team's shared activity stream. So thanks to continued feedback from you, we've just released the new feature: Private contacts.
What are Private contacts and how do I use them?
With private contacts users can create a separate group of non sales-related contacts that can be managed privately in the CRM. Now you can apply the Next Action method to all your daily interactions, non-sales contacts included!
Marking contacts as 'private' in your account does exactly that – these contacts are for your eyes only! Any contact who is assigned Private status by you will only appear in your Action Stream and new Private filter. These contacts cannot be accessed by anyone else, including the account owner or administrator.
[blockquote author="" link="" style="" target="_blank"]Use Private contacts to separate non sales-related contacts such as legal or financial contacts, from the rest of your sales team. [/blockquote]
Shared vs Private
It's important to remember that the strength of a CRM lies in the shared knowledge that a company has on its contacts. While some sales professionals argue that marking contacts as private is good for 'protecting' them from other team members, this is not what Private contacts in OnePageCRM is designed for. Private contacts will not solve the issues of working in a competitive sales team, so we recommend that you only use it for non sales-related contacts. We will be introducing another level of separation for teams in the near future.
How to set up Private contacts
The account owner and administrator instantly have access to create their own Private contacts in the account. They must enable this privilege in the settings for the rest of the team.
Once enabled, a user can quickly set a contact as private when editing the contact's details. Simply scroll down to the Administration panel and select Contact visible to Just me from the drop down and hit save.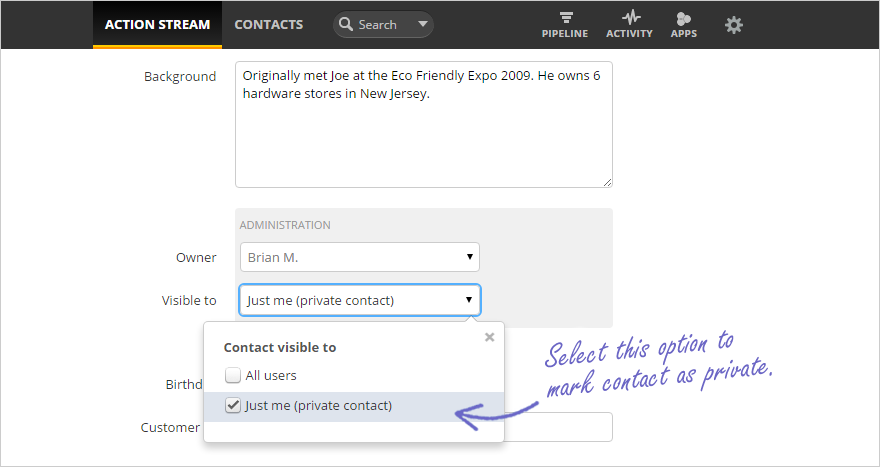 You can recognize a Private contact in your Action Stream by the lock symbol beside their name.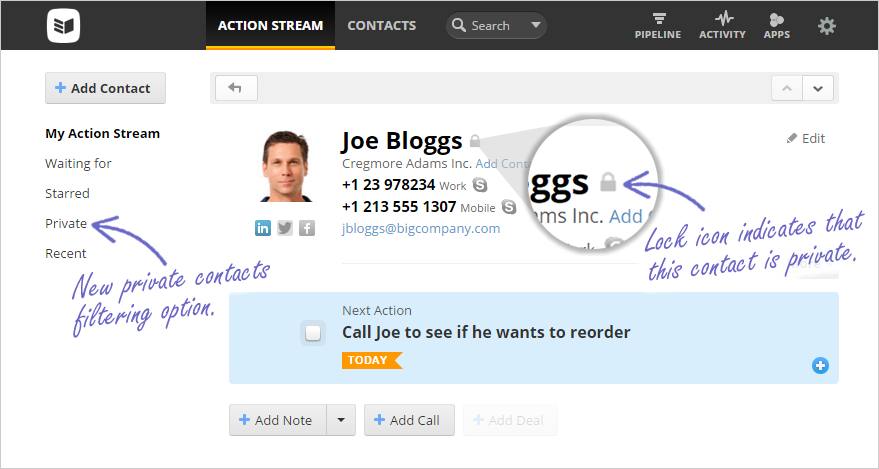 Private contacts keypoints
Private contacts only appear in your Action Stream and Private filter
You have to own the contacts that you wish to make private
Contacts with activity for other users cannot be made private. e.g. assigned actions, closed sales cycle
Private contacts cannot have deals (pending, won or lost)
Check out our help article for more information on setting up Private contacts. If you have any other questions or feedback, please comment below, or drop me an email to brianm@onepagecrm.com.
[sc name="(Feature update) Sign up for a free trial banner"]