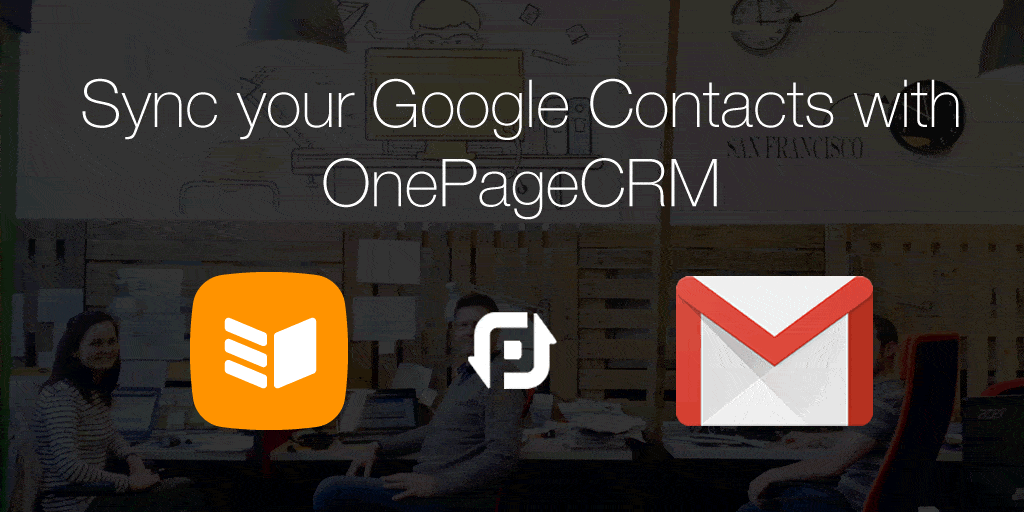 Sync your Google Contacts with OnePageCRM
Keeping your contacts in sync between OnePageCRM and Google Contacts is simple thanks to our new integration with PieSync. Using this integration, your contacts will always be the exact same in both systems, so if you add or update a contact in one, it will automatically change in the other.
Why set up a sync?
Reduces 'data errors' and data entry which can be very time consuming
Your sales team has access to up-to-date contact information
Eliminates the need for multiple imports and exports of data
So how does it work?
You can find the PieSync icon under Apps and Integrations in OnePageCRM. Simply click install and authorize the connection and we'll do the rest. Your contacts will begin syncing in the background straight away.
Customizing your Google Contacts sync:
There are some great options available to customize your sync settings.
Sync criteria: Decide on the criteria your contacts must meet in order to be included. For example, if contacts should be a part of a group in Google Contacts (or just all contacts), or if they should have a specific tag in OnePageCRM.
Sync direction: Choose whether to send contacts just the one-way (for example, from Google Contacts to OnePageCRM) or both ways with a full sync.
Conflict management: If there are duplicates or deleted contacts in either account, you can set how they should be managed, as well as which app you want to win out if a conflict arises (hint OnePageCRM is best).
A clean contact list is important for staying focused on what really matters – clear and consistent communication. By integrating your CRM with Google apps and Gmail, you will make sure that your list is always up-to-date.
If you want to try out this new integration, sign up to a Free Trial of PieSync from within your OnePageCRM account. Check out our help article for more information about getting set up.
If you have any questions or feedback, please comment below or contact me at brianm@onepagecrm.com.
Not currently a OnePageCRM customer and interested in trialing this feature and more? Sign up for a free 21 day evaluation and see how our Next Action sales method can help you Get Sales Done!