As your business expands, your needs as an entrepreneur or salesperson can change. These changes can affect any area of your organization, in particular the tools you use. Since businesses rely so heavily on their customers, managing these relationships well is vital. And having the right CRM for your growing business is of the utmost importance.
If you're reading this, you probably have some experience with Highrise. Or you're at least familiar with their product. Highrise is a simple contact management tool which allows you to keep your contacts in an organized, shared database. This is good for companies starting out but if you're looking for a CRM to help you grow your business you need something that will push your sales. Not just be a repository for contacts.
Why make the switch to OnePageCRM?
Growing a business requires sales actions (if you're not on the phone, just off the phone or about to go on the phone, you're probably not selling hard enough). With a unique focus on sales actions, OnePageCRM will keep your contacts locked in a continuous sales loop until you get them over the line. You decide on the most important Next Action for a contact, update it and we'll remind you when it's due. Move beyond simple contact management and use OnePageCRM as a proactive selling tool (we'll even manage your contacts as well).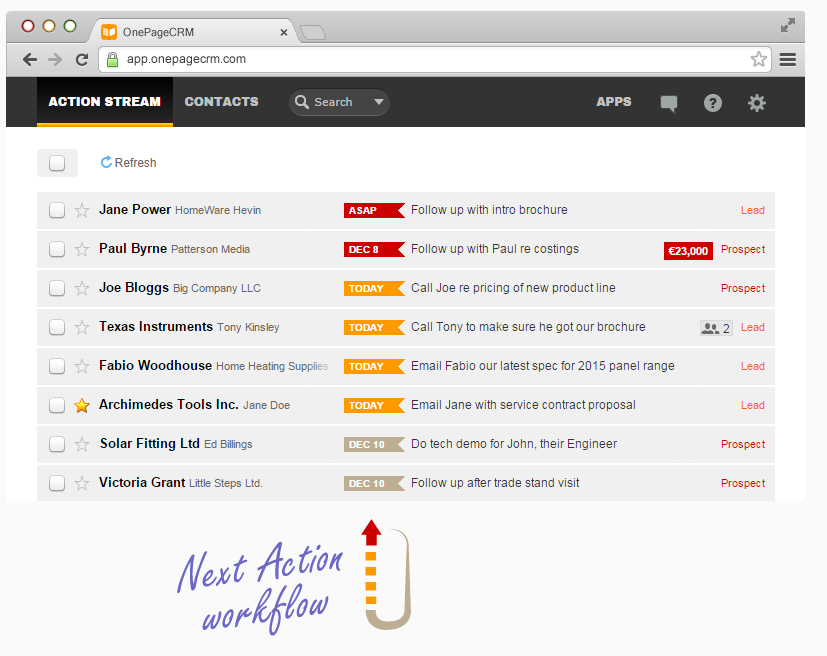 Here are just some of the ways you'll benefit from making the switch to OnePageCRM:
Our Next Action Sales methodology keeps you focused on bringing your contacts closer to conversion.
As a trusted system, OnePageCRM will make sure you never drop the ball with your contacts again, turning the complexity of CRM into a simple to do list.
Use our native mobile apps for Android and iOS when working on the go.
Manage your sales pipeline using our deal stages funnel and watch your pipeline grow.
Migrating from Highrise to OnePageCRM
Making the switch from Highrise is very easy, using our new direct migration tool. Connect your Highrise account to OnePageCRM and import your contacts, tasks, notes, deals and custom fields.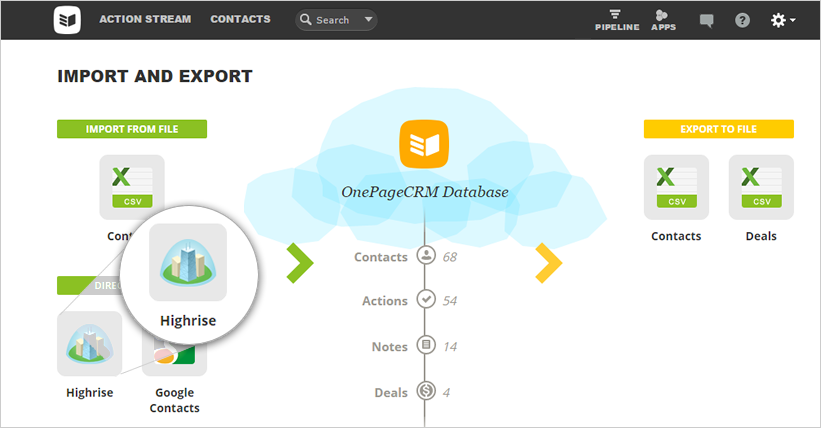 OnePageCRM is like a shot of coffee in the morning, Highrise is a glass of milk. Both are really nice to have and serve a purpose, but only one gives you the kick you need to succeed. For more information on migrating to OnePageCRM, check out our help article. And as always, feel free to get in touch with any questions or feedback to support@onepagecrm.com.
[sc name="(Feature update) Sign up for a free trial banner"]