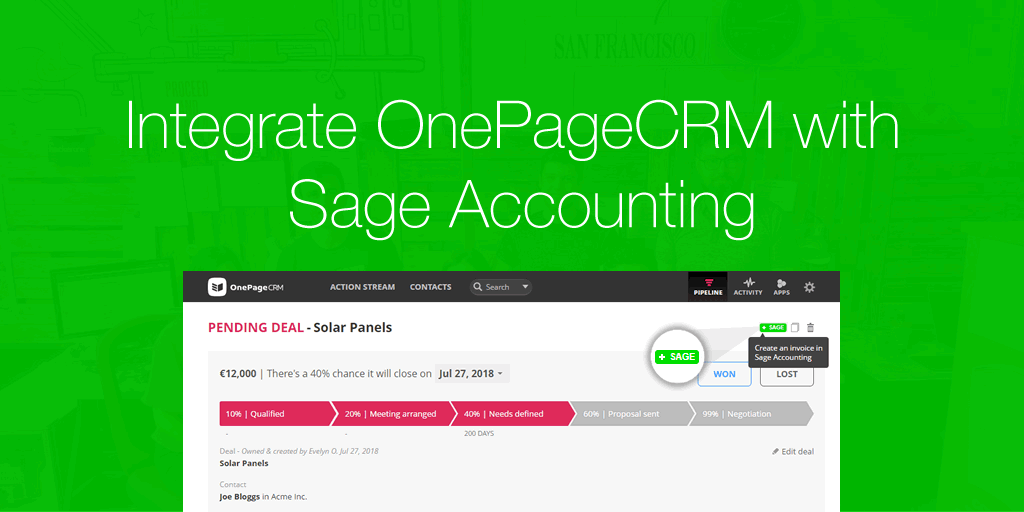 Integrate OnePageCRM with Sage Accounting to quickly create invoices
It's live! OnePageCRM's latest integration with Sage Accounting will help keep your Sales and Accounting teams on the right track. Sage Accounting provide an easy-to-use online accounting and payroll software for start-ups and small businesses.
Connecting OnePageCRM with Sage Accounting will give you the ability to create invoices from inside OnePageCRM – giving you a full view of your invoicing activities whilst also allowing you to keep track of your latest customer interactions and sales opportunities. What's not to love!?
How Sage Accounting works with OnePageCRM?
Integrating the two applications is easy. First of all, you will need an account with Sage – if you don't have one already you can create a free trial here.
Then, in OnePageCRM, go to Apps > All integrations > Financial Apps > select Sage > Click on Install > Connect to Sage. Read a step by step guide here. Once connected, you're ready to go!
You can now quickly create and edit contacts in Sage plus create invoices from deals in OnePageCRM in just-one-click.
Why use the Sage Accounting and OnePageCRM integration?
Minimal set up & easy access
Setting up the integration with Sage Accounting is quick and easy. Once connected you can easily access Sage Accounting right from the deals area in OnePageCRM. This is the place you're handling all your projected sales so makes sense right?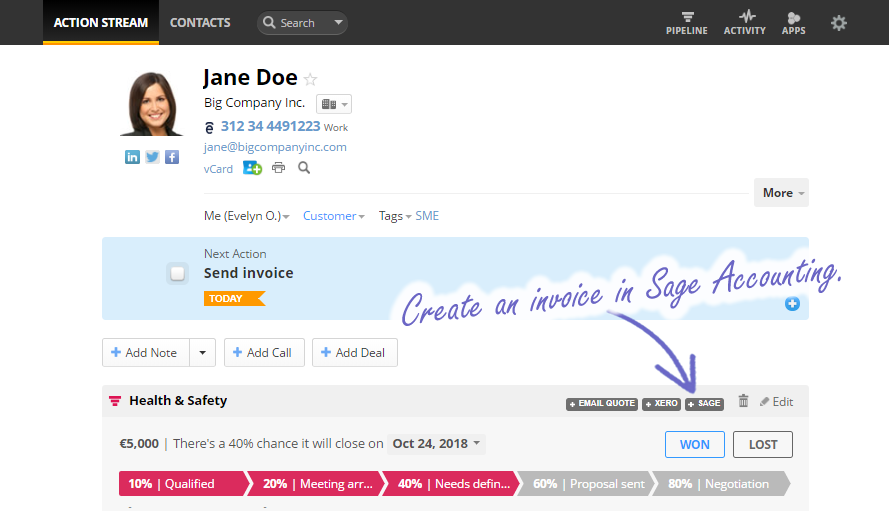 Reduces data entry and saves time!
By connecting OnePageCRM with Sage Accounting, you can create invoices in a fraction of the time. Reducing admin and removing double entry. Contact information like organization, address, work telephone number and deal information such as date created, due date, description and amount are sent to Sage in just-one-click. Thus eliminating manual logging of interactions and activities.
An added bonus of the integration is that you can search or create contacts over in Sage Accounting from within OnePageCRM. No need to keep switching from one system to the other to view your customer activity or to make small updates. If a sales representative is working from the Pipeline page in OnePageCRM and sees that an invoice is due to be sent, they can do so easily without leaving the CRM!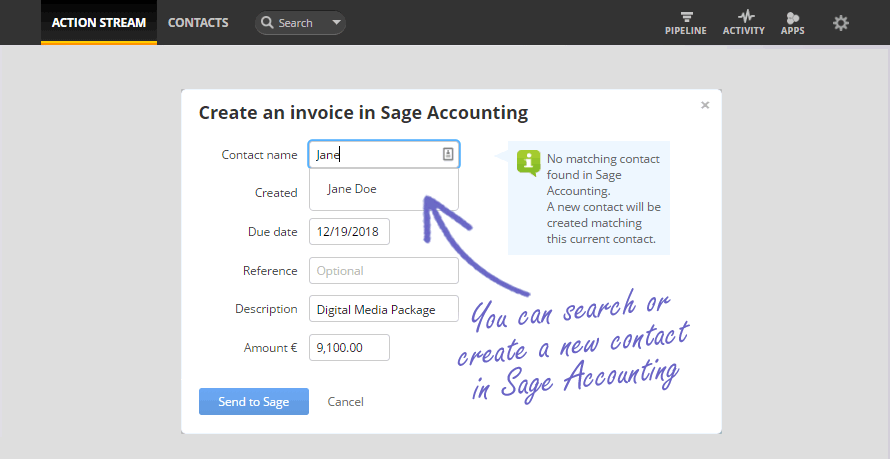 Streamlines internal sales processes
Connecting the integration ensures that key data associated with your customer is always kept up to date ensuring accuracy and saving your team time. No need to second guess which data is correct as a draft of the invoice is created in a matter of seconds from the contact and deal information provided in OnePageCRM in both OnePageCRM and Sage Accounting. This makes it easy to cross reference when needed and eliminates the need for extra meetings to discuss what invoices need to be raised improving overall team productivity. Ultimately creating an easy workflow within your business.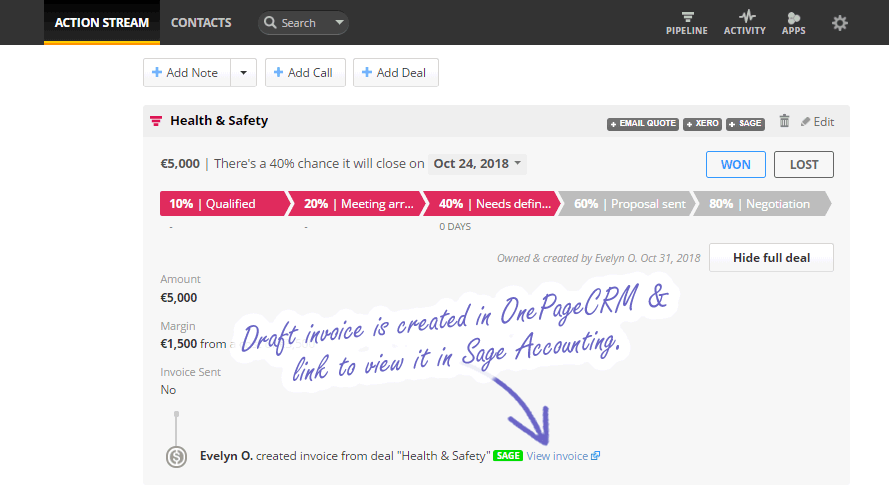 By integrating Sage Accounting with OnePageCRM, you get the best of both worlds as Sage Accounting focuses on invoicing and OnePageCRM on sales and pipeline management. You can reap the benefits of the two, save time and streamline your sales process.
If you're looking to connect OnePageCRM with Sage One and have some questions,get in touch by emailing carmelg@onepagecrm.com or tweet us @OnePageCRM with #AskOnePageCRM.