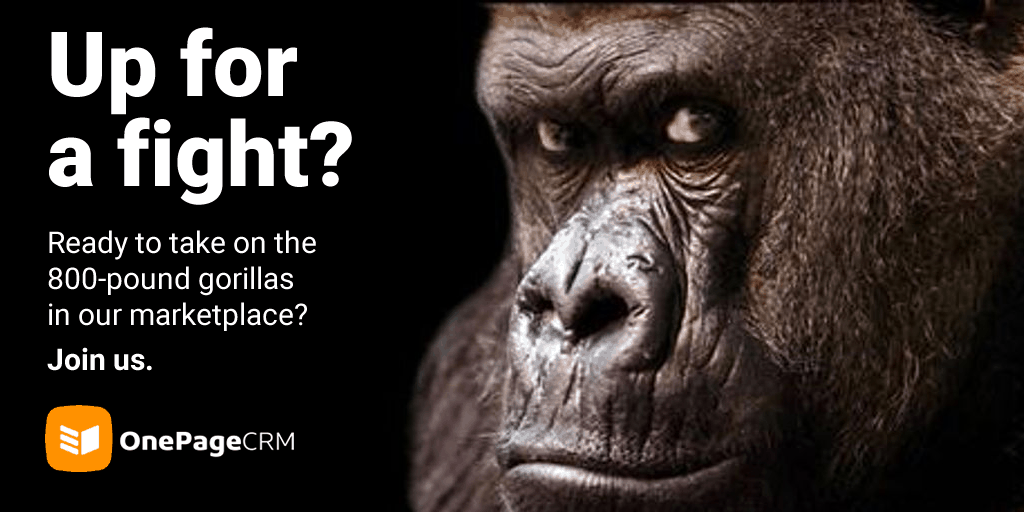 HIRING: Head of Digital Marketing Operations
Up for a fight? Ready to take on the 800-pound gorillas in our marketplace?
When we founded this company, I distinctly remember a Venture Capitalist saying to me "that's brave."
She was referring to us taking on a marketplace that has multiple 800-pound gorillas in the room!
Well, it looks like being brave brings out your best work and motivates you to be a better version of yourself.
We've built a powerful CRM product that our users love.
Yes, it is a very busy marketplace, but a huge marketplace, and with that comes a huge opportunity.
You now have the opportunity to lead the fight against the big guys as Head of Digital Marketing Operations.
Help us grow OnePageCRM, help us stand out in the crowd.
There's no silver bullet
---
As much as the growth hacker spam might lead you to believe, there's no silver bullet in digital marketing. It's about making promises you can keep, and showing up where you need to show up.
We need you to show up to…
Grow and lead the marketing team
Execute our digital marketing strategy
Manage campaigns, social media, email marketing, review websites, and advertising
Optimize analytics, conversion funnels, and app metrics
Handle external agencies and consultants
Promote and manage affiliate marketing
We will grow because of our unified efforts. This is your chance to take up a leading role and make an impact on the growth of our business and the people around you.
The hot seat
---
The hot seat you'll occupy will require that you understand the business of SaaS products.
You may not even come from a traditional background in digital marketing. Sometimes it's a person with a technical background but a love of all things product and amazing project management skills that makes the best digital marketers. You need to have the analytical skills to see and feel data, and apply that knowledge to attract our target market. You have to handle a mix of; new and exciting campaigns, versus the relentless efforts of managing marketing activity necessities.
Taking ownership and executing.
You'll be a master of juggling as we actively engage with customers, identify and trial new acquisition channels, and deliver on opportunities. Well-organised and smoothly run delegation processes are crucial for a team to get results.
You're a do'er, a shipper – where Done is better than perfect
Regularly meet, debate and report directly to the CEO delivering updates on marketing activities and set KPIs.
What you get from us
---
Flexibility – You can be based anywhere as long as there's 4 hour time zone overlap with the HQ in Ireland.
Respect – Live and let live. We're all humans who get on with each other and get on with our lives. We expect you to get the job done inside your working day so you can live life, have fun and relax outside your working day.
Transparency – Openness is our forte so you'll know where we stand, what's the company direction and status. You'll be part of a supportive team of professionals that like to work and have a bit of craic together.
If all this sounds good so far, we'd like to get to know you better. Please share some insights of your past experiences by responding to the questions below:
What are your greatest marketing achievements to date that successfully increased product/brand awareness and increased growth?
What marketing initiatives of a SaaS company have impressed you recently and why?
Tell us why you want this job and what makes you an ideal candidate.
Apply to jobs@onepagecrm.com with your cover letter and CV.

Look forward to hearing from you.

Michael FitzGerald
CEO at OnePageCRM